---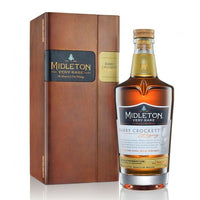 Midleton, the brand name synonymous with the annual vintage release of Midleton Very Rare and with the limited releases of Midleton Single Pot Still Whiskeys, added its first permanent Single Pot Still Whiskey to its range in 2011.
Bearing the name of the celebrated second generation Midleton Master Distiller, Midleton Barry Crockett Legacy represents a selection of pot still whiskeys which have been matured exclusively in American bourbon barrels with a subtle contribution from a pot still distillate which has matured in an unseasoned American barrel.
This pinnacle of the Single Pot Still range, Midleton Barry Crockett Legacy, marked the first time since John Jameson that an Irish Distillers product had been named after a Master Distiller. Single Pot Still whiskey is unique to Ireland in general and to the Midleton Distillery, Co. Cork, in particular, and is regarded as the quintessential style of Irish whiskey. Made from a mash of malted and unmalted barley and then triple distilled in traditional copper pot stills, Pot Still whiskeys are characterised by full, complex flavours and a wonderful, creamy mouthfeel.
As a tribute to the man who is inextricably linked to the Midleton distillery and who has more than anyone, shaped the renowned Midleton style, Midleton Barry Crockett Legacy displays a distinctive Pot Still complexity yet is refined and poised on the finish.
With over 30 illustrious awards received to date, this is a whiskey that truly embodies its name. In 2016 it was named the Best Irish Blended Pot Still Whiskey at The Irish Whiskey Awards