---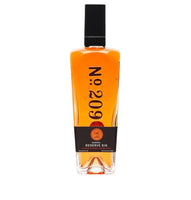 GIN WITH WINE COUNTRY ROOTS
Slow aging in Cabernet Sauvignon barrels yields a gin that evokes bourbon, fine cognac, and even aged rum.

The nose possesses toffee and caramel sweetness with hints of spice. The first sip is sweet and full with a hint of citrus, spice and subtle red wine notes. Mid-palate shows the only true remnants of gin with juniper, cardamom and rose-like coriander resting in the background. The finish is quite long, sweet and surprisingly spice-filled with cassia, clove, ginger and black pepper. At the very end there are chocolate and oak notes.